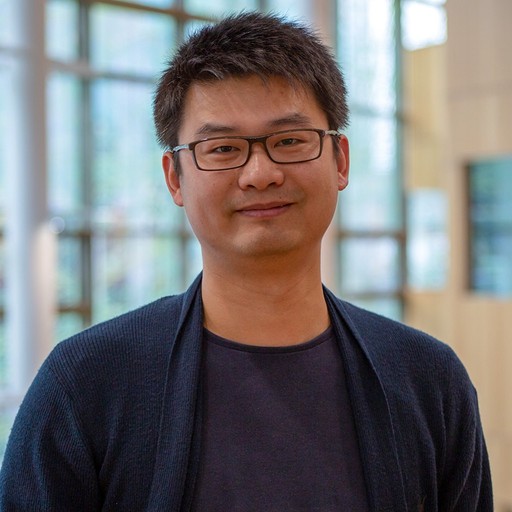 I am a Lecturer in data science and I lead the machine learning group in Open Lab.
My research interests are machine learning and its various applications such as behaviour analysis, wearable and ubiquitous computing, computer vision and biometrics, etc.
Before joining Newcastle University, I received my PhD degree at the department of computer science, University of Warwick in 2015.
2023
The Role of Wearable Sensors to Monitor Physical Activity and Sleep Patterns in Older Adult Inpatients: A Structured Review
2023 – Sensors
Open website
10.3390/s23104881
2022
Investigating the Impact of Environment and Data Aggregation by Walking Bout Duration on Parkinson's Disease Classification Using Machine Learning
2022 – Frontiers in Aging Neuroscience
Open website
10.3389/fnagi.2022.808518
Learning disentangled behaviour patterns for wearable-based human activity recognition
2022 – Proceedings of the ACM on Interactive, Mobile, Wearable and Ubiquitous Technologies
Open website
10.1145/3517252
Wrist-Worn Devices to Encourage Affected Upper Limb Movement in Unilateral Cerebral Palsy: Participatory Design Workshops
2022 – Frontiers in Rehabilitation Sciences
Open website
10.3389/fresc.2022.1021760
2021
Patient-centred measurement of recovery from day-case surgery using wrist worn accelerometers: a pilot and feasibility study
2021 – Anaesthesia
Open website
10.1111/anae.15267
Invariant Deep Compressible Covariance Pooling for Aerial Scene Categorization
2021 – IEEE Transactions on Geoscience and Remote Sensing
Open website
10.1109/TGRS.2020.3026221
Ubi-sleepnet: Advanced multimodal fusion techniques for three-stage sleep classification using ubiquitous sensing
2021 – Proceedings of the ACM on Interactive, Mobile, Wearable and Ubiquitous Technologies
Open website
10.1145/3494961
Discriminative Latent Semantic Graph for Video Captioning
2021 – Proceedings of the 29th ACM International Conference on Multimedia (MM '21)
Open website
10.1145/3474085.3475519
2020
Multi-Granularity Canonical Appearance Pooling for Remote Sensing Scene Classification
2020 – IEEE Transactions on Image Processing
Open website
10.1109/TIP.2020.2983560
Evaluating upper limb function after stroke using the free-living accelerometer data
2020 – Statistical Methods in Medical Research
Open website
10.1177/0962280220922259
Dual reference age synthesis
2020 – Neurocomputing
Open website
10.1016/j.neucom.2020.06.023
Order matters: Shuffling sequence generation for video prediction
2020 – 30th British Machine Vision Conference 2019, BMVC 2019
Open website
Orchestrating the Development Lifecycle of Machine Learning-based IoT Applications: A Taxonomy and Survey
2020 – ACM Computing Surveys
Open website
10.1145/3398020
Wrist-worn devices to improve arm movement in hemiplegic cerebral palsy: participatory design workshops
2020 – RCPCH Conference
Open website
10.1136/archdischild-2020-rcpch.34
Gait Analysis with Wearables can Accurately Classify Fallers from Non-Fallers: A Step toward Better Management of Neurological Disorders
2020 – Sensors
Open website
10.3390/s20236992
Making Sense of Sleep: Multimodal Sleep Stage Classification in a Large, Diverse Population Using Movement and Cardiac Sensing
2020 – Proceedings of the ACM on Interactive, Mobile, Wearable and Ubiquitous Technologies
Open website
10.1145/3397325
2019
Generic compact representation through visual-semantic ambiguity removal
2019 – Pattern Recognition Letters
Open website
10.1016/j.patrec.2018.04.024
Towards Reliable, Automated General Movement Assessment for Perinatal Stroke Screening in Infants Using Wearable Accelerometers
2019 – Proceedings of the ACM on Interactive, Mobile, Wearable and Ubiquitous Technologies
Open website
10.1145/3314399
Selecting Clinically Relevant Gait Characteristics for Classification of Early Parkinson's Disease: A Comprehensive Machine Learning Approach
2019 – Scientific Reports
Open website
10.1038/s41598-019-53656-7
Comparison of walking protocols and gait assessment systems for machine learning based classification of Parkinson's disease
2019 – Sensors
Open website
10.3390/s19245363
Co-sleep: Designing a workplace-based wellness program for sleep deprivation
2019 – 13th EAI International Conference on Pervasive Computing Technologies for Healthcare
Open website
10.4108/eai.20-5-2019.2283753
2017
Ensembles of deep LSTM Learners for Activity Recognition using Wearables
2017 – Proceedings of the ACM on Interactive, Mobile, Wearable and Ubiquitous Technologies
Open website
10.1145/3090076
Matrix Factorization with Rating Completion: an Enhanced SVD Model for Collaborative Filtering Recommender Systems
2017 – IEEE Access
Open website
10.1109/ACCESS.2017.2772226
Matrix Factorization with Rating Completion: an Enhanced SVD Model for Collaborative Filtering Recommender Systems
2017 – IEEE Access
Open website
10.1109/ACCESS.2017.2772226
2016
Enhanced SVD for Collaborative Filtering
2016 – Advances in Knowledge Discovery and Data Mining (PAKDD 2016)
Open website
10.1007/978-3-319-31750-2_40
Enhanced SVD for Collaborative Filtering
2016 – Advances in Knowledge Discovery and Data Mining (PAKDD 2016)
Open website
10.1007/978-3-319-31750-2_40
2015
Pokerprint: Seeing Through Your Playing Cards
2015 –
On Reducing the effect of Covariate Factors in Gait Recognition: A Classifier Ensemble Method
2015 – IEEE Transactions on Pattern Analysis and Machine Intelligence
Open website
10.1109/TPAMI.2014.2366766