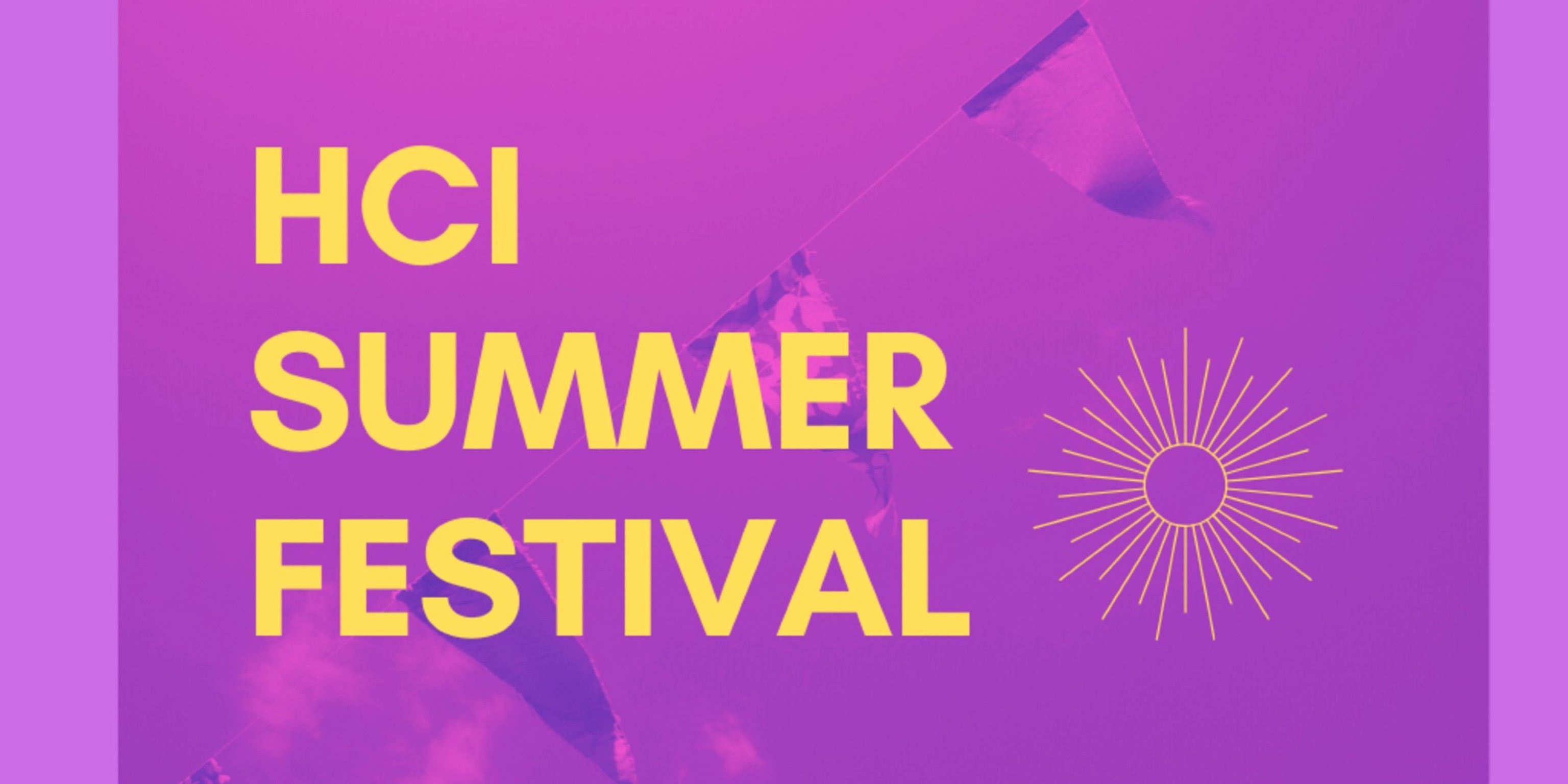 Running a week long virtual event - the HCI summer festival
Friday, 7 August 2020
Emily Barker, Communications Offer at Open Lab, talks about how we along with HCID and North Lab built a virtual festival in less than a month in response to the canceled CHI 2020 conference (along with other conferences) due to the COVID19 pandemic.
If you'd told me a year ago that I would spend a whole week on Zoom, I think I would definitely look a bit confused. Back then I'm not sure I'd ever even used the platform, and yet in a week in July - I not only used it, but hosted more than 20 sessions online from a creative sprint to virtual demos (with a few panels thrown in for good measure).
By March, we knew that the CHI conference had been cancelled, and others were looking either at postponing, cancelling or attempting to put their content all online. We like many research labs across the world were left with a number of papers, but nowhere to show them.
Beyond CHI - the HCI summer festival
We knew we wanted to put on an online event in response to the cancellations, but we were also aware that we could put our own spin on it. Open Lab was keen to showcase it's CHI work, but also all the other work we have been doing and we wanted to do something a bit different.
Along with a small group of volunteers, we came up with the idea of doing a Summer Festival. We decided it would be good to give people the chance to test out various ideas, run workshops, be creative, run discussions and use it as a platform to share their research in new and interesting ways. We also reflected that it was important to look beyond just CHI papers (something which we are often guilty of) and try to incorporate many different projects at once.
On the other side, we also saw it as a chance to bring people together to discuss research methods and challenges they have faced during the current pandemic. For many researchers working in the HCI field, their study plans have had to shift dramatically due to the pandemic and lockdown; and for some, research conduct was halted completely. The festival provided an online space and new opportunity for people to share the innovations and concerns they had experienced during this time.
We found out that HCID at City University and NORTH Lab at Northumbria University had been planning to run a similar event, so we decided to join forces with them and the HCI summer festival was born.
How we put on the event - the technical stuff
At the beginning, we thought about trying to run sessions that were not just using Zoom, however this ended up being the platform of choice for most people, apart from one that was run using only WhatsApp.
Alongside Zoom - some sessions incorporated other online tools, including shared Google docs, digital art making software (such as Pixlr, Photoshop, and Illustrator), digital whiteboard tools (such as Mural and Miro), and many people used Slidedecks and Youtube if they presented a demo or some work.
We also used Youtube as a way to Livestream the event for people who were not in the Zoom meeting, and we used Google docs and a Google calendar to share details of the programme. On top of this, for some sessions, we used Teams as a back channel for moderators to help session hosts field questions
We decided to make sure that security for the HCI summer festival was tight as we did not want to have any 'Zoom-bombings' during the event.
This meant we created a room with a password only sent to participants and we created the role of 'digital bouncers' for each session. They could remove people if that was needed, and they were in charge of allowing people into the event via the Waiting Room.
For the room we set up one recurring Zoom room which ran for the whole festival, and this was used for most sessions apart from a couple which required registration beforehand (the organisers for these set up their own rooms).
Setting the stage
We had 24 sessions overall for the festival from panels, to workshops and everything in between. People really seemed to appreciate being given the freedom to try something out, and not only did we have a mixture of sessions, but an array of both academic and non-academic participants.
Alongside bringing the universities together, we also saw this as a chance to bring in people who were not directly connected to academia or HCI - such as UX professionals, non-academic partners, and researchers in other fields. This would not be possible at an event such as CHI in the same way, and while we work often with people outside of the field of HCI and academia - they are often not involved in these types of events.
Ahead of the sessions, we did a bit of housekeeping and set some clear ground rules.
Ask participants to keep their mics on mute during panels/presentations etc
Ask people to use the raise hand function or chat to ask Qs in Q and As.
Ask people to use the hashtag: #HCIsummerfest
Most big sessions will be recorded and livestreamed, so make sure people are aware of that
Make it clear (for organisers) when you close your session and when a new one begins
After all the preparation, too many emails, Zoom practices, chasing people and some final tweaks to the programme - we were off and managed all 24 sessions mostly without a hitch.
What we took away from the event
From talking with people, and through feedback it seems there is an appetite for these types of online events even outside of lockdown.
This appeared to be for three reasons.
There was no travel required
The ability to attend a conference-type event without having to travel was a plus. So far, we know through feedback we had people attending from Denmark, Finland, India, Ireland and other areas of the UK - in fact even the possibility of running an event with a London university was made easier by doing it virtually.
You could choose the level of participation
The aim of the event was to create something where people could drop in and out of sessions, this meant people were not tied to filling their day with a whole day of sessions. This was also less of a time commitment for people - they could attend for an hour each day (or just a day etc) and still do other work alongside this.
Watching it back
People also appreciated the ability to watch the sessions back after they had finished, something that is often not as easily available from real-life conferences. While many conferences do record sessions, there was something about being able to easily re-watch a session afterwards straightaway on Youtube that appealed to people.
What will happen next year?
It looks as if next year the CHI 2020 conference will be looking at a blended model between in-person and online, showing that getting online events right could be an important part of academic and non-academic events in years to come.
And we may put on another one, so keep your eyes peeled.
Interested in reliving the HCI Summer Festival? You can watch many of the videos here, or look at some of our blog posts here.
Thank you to the original Open Lab team who came up with the concept and put in tons of work to get things off the ground: Jen Manuel, Sean Peacock, Rachel Clarke, Colin Watson, Rosie Bellini, and Daniel Parry. Everyone who took part and ran a session (too many to name them all). Alex Taylor from HCID for being a great co-organiser and excellent moderator, and Kyle Montague from North Lab for being the brilliant third organiser and who helped to smooth over any potential technical issues before we even started. And a big congratulations to Pete Wright who had his CHI academy award party on Zoom as part of the event.