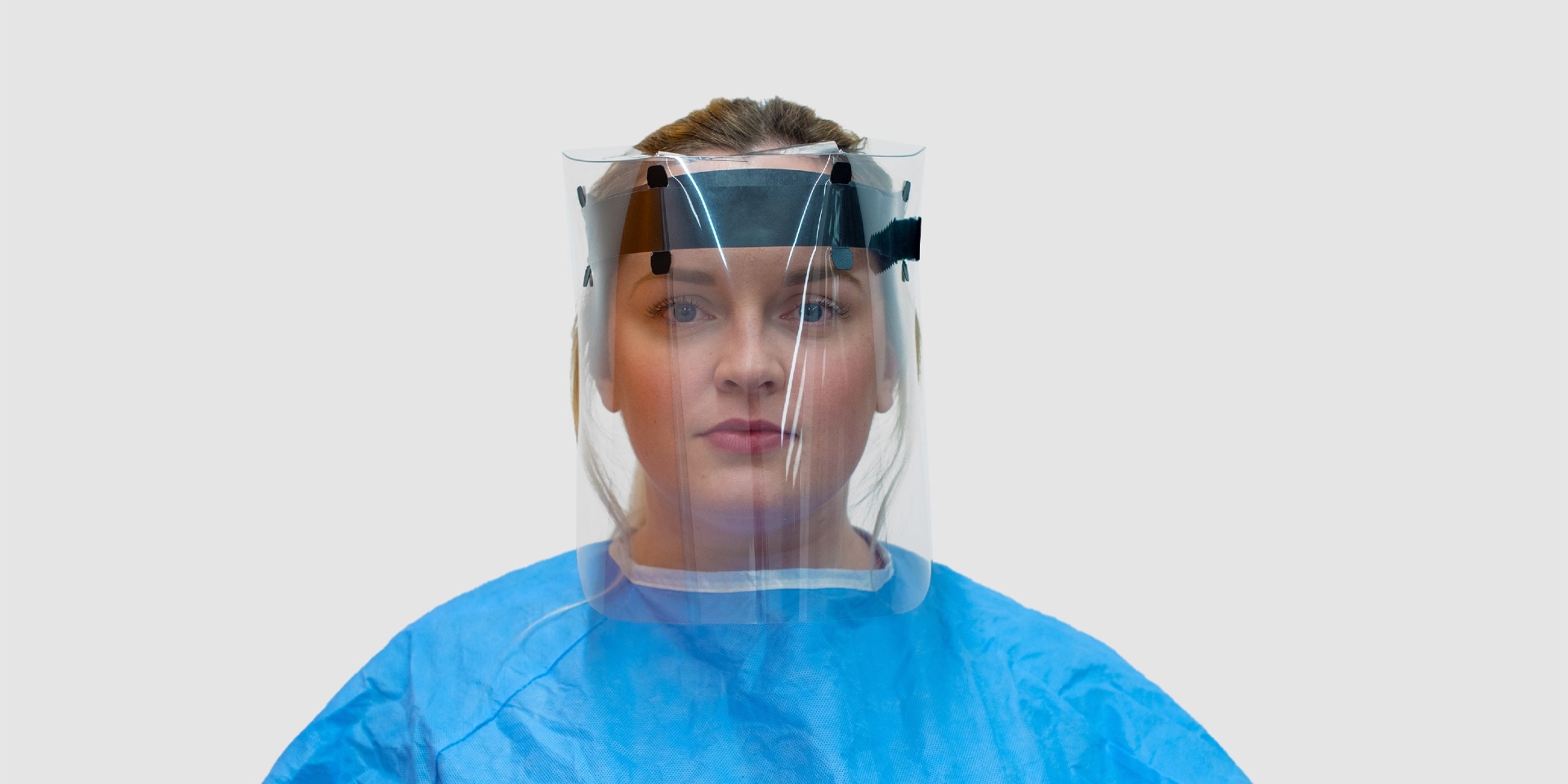 GetPPE NCL: PPE for front-line health workers during COVID-19
Digital Health


Collaborators Northumbria University, Sunderland University, Potts Prints, Die Cut Finish, The Newcastle Upon Tyne Hospitals Nhs Foundation Trust, Newcastle Gateshead Ccg
Abstract
Newcastle, Northumbria and Sunderland universities worked together to design and support production of viral protective equipment for the NHS in Spring 2020.
Method
We designed a visor suitable for mass production and supported co-ordination of the wider GetPPE NCL project.
Takeaways
The Hannan Snap Visor design was made freely available on an open course basis, and around 30,000 items of PPE were provided to front-line health workers responding to COVID-19.
In March 2020, the UK went into national lockdown to prevent the spread of COVID-19. Existing supply chains struggled to keep up with the demand for PPE by front-line key workers.
We identified that Open Lab's digital fabrication facilities and design expertise could be used to support the production of PPE as part of an emergency response. We began to connect with other makerspaces at Newcastle University, as well as colleagues at Northumbria and Sunderland Universities, to see how we could help.
Rachel Pattinson became one of the co-ordinators of the project, GetPPE NCL, which brought together different groups across the universities working to supply existing bought supplies of PPE that the University held, and support PPE production.
At the same time, Tom Nappey worked with Simon Scott-Harden, Senior Lecturer in Design for Industry at Northumbria University's School of Design and Roger O'Brien from the University of Sunderland's Institute for Automotive and Manufacturing Advanced Practice (AMAP), to redesign and reengineer previous open sourced visor designs to make it easier to mass produce.
The design has been made freely available on an open source basis and it can be made from standard plastics that can be easily sourced. The parts come flat-packed, and can be sterilised and assembled in one to two minutes. The head strap is fully adjustable and gives the user the ability to wear full Personal Protective Equipment (PPE) during use.
Named in honour of Katherine Hannan, a nurse who went out of her way to be at the very front lines of caring for the sick during the Spanish Flu pandemic at the beginning of the last century, the Hannan visor is a low -cost full face visor designed for single sessional use.
We worked with Cramlington-based printing, packaging and direct mail company, Potts Print, and Die Cut Finish in Leeds, to produce a pilot run of visor components from the design which were provided to Newcastle Gateshead CCG.
Meanwhile, the wider GetPPE NCL project produced components for thousands of 3D printed face masks. This 3D printing initiative was started by Nathan Hudson in the School of Architecture, Planning and Landscape, and expanded to include over 50 3D printers from across Newcastle and Northumbria universities. Newcastle University staff designed a mould of the headband components that they were 3D printing, so that local health partners could make them using injection moulding.
The GetPPE NCL team also collected over 20,000 items of PPE that the University had bought for teaching and research purposes, which were donated to Newcastle Upon Tyne Hospitals NHS Foundation Trust.
Highlights
The Hannan Snap Visor design was made freely available on an open source basis, so that anyone, anywhere in the world with the appropriate production facilities can download it and make the full face visor.
The GetPPE project won Project of the Year (NGO/Non-Profit) at the Dynamo Dynamite awards in 2020.
Around 30,000 items of personal protective equipment (PPE) were provided to front-line health workers through the GetPPE NCL project during the start of the UK's national lockdown.