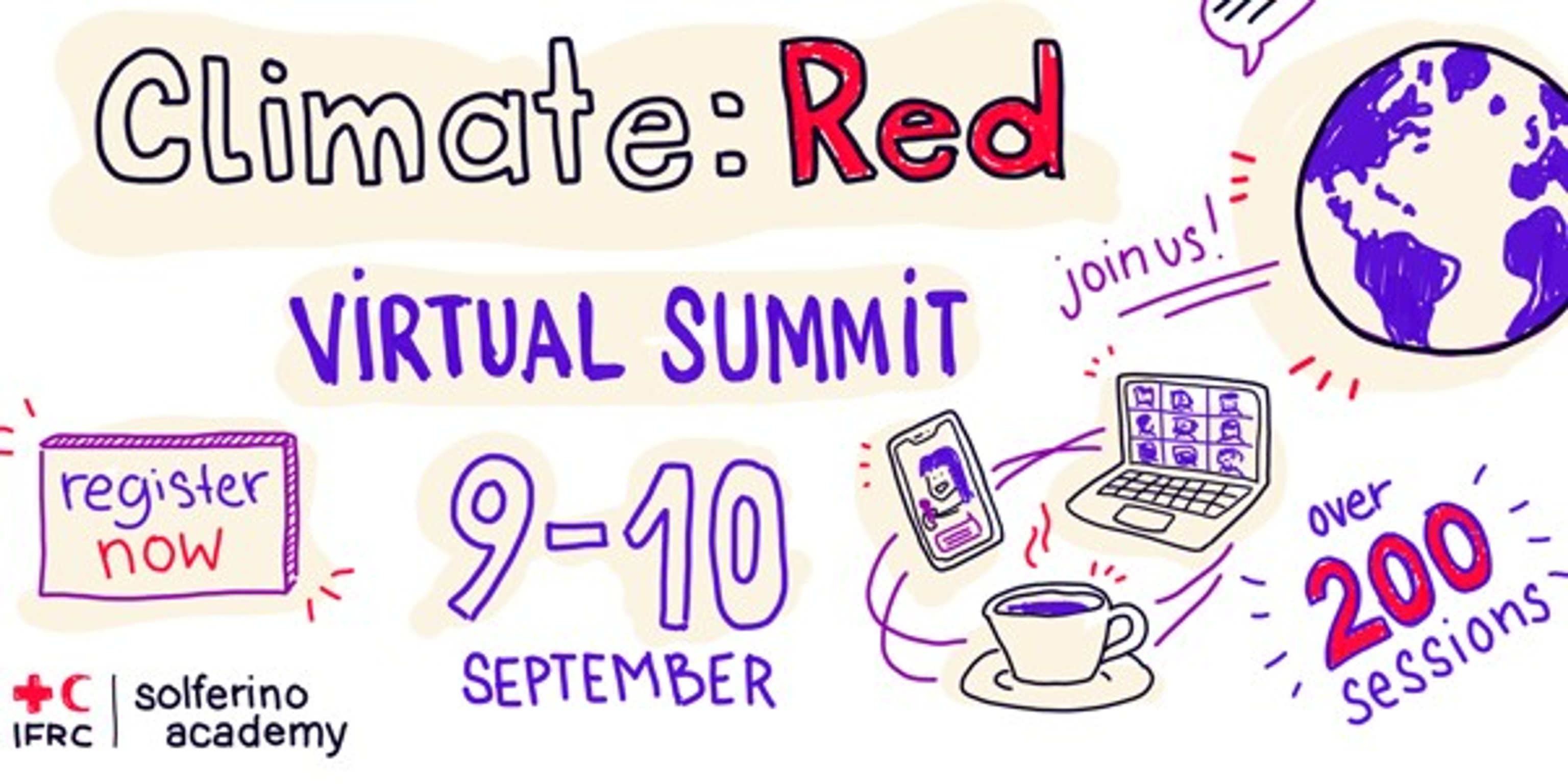 IFRC climate:red virtual climate summit
Digital Sustainability


Collaborators International Red Cross and Red Crescent Societies
Abstract
We worked with the IFRC to create a bespoke virtual conference platform for their major virtual summit focused on Climate and Environmental Crisis.
Method
The platform included spaces for talks, panels, workshops, a 'coffee chat' function, a way to exchange business card, live interpretation and a chatbox helpdesk.
Takeaways
Over 10,000 people from 195 countries registered for the Summit, and they had over 200+ sessions in four languages.
On September 9 and 10, 2020 the International Red Cross and Red Crescent Societies (IFRC) hosted climate:red, a major virtual summit focused on Climate and Environmental Crisis. It was the first of its kind for the Red Cross and Red Crescent network and the largest they have ever attempted.
Open Lab worked with the Solferino team from the IFRC to create a bespoke online platform for the conference which had over 200+ workshops and talks, all done in four languages - English, Spanish, French and Arabic.
Over 10,000 people from 195 countries registered for the Summit. During the 31 consecutive hours it ran for, they had between 1,300 – 2,800 people online at most times.
How we set it up
climate:red had numerous similarities to a physical conference or summit, in which we would have large auditorium-style talks or panel discussions followed by smaller side speeches and workshops that could be grouped into thematic areas or tracks. Due to existing platforms either lacking language support (particularly for languages that are formatted right-to-left (RTL) – such as Arabic) and being too costly, Open Lab built the platform internally.
Building our own
This was our first time developing a virtual conference platform. We opted for a relatively new approach via what's known as a "Headless CMS" with a technology called Netlify.
This allowed us to edit content as a distributed team, but saved us from all the additional bolt-ons you get from typical CMS's. The next bit of organisation came in the form of Google sheets, we ended up making a series of reference documents, such as one giant Google sheet document to curate all the accepted sessions.
We knew that whilst most of the individual sessions would be held in Zoom, Microsoft Teams, Google Meet, Webex, or others, we also needed a central platform through which the whole summit functioned and people could navigate through to the agenda.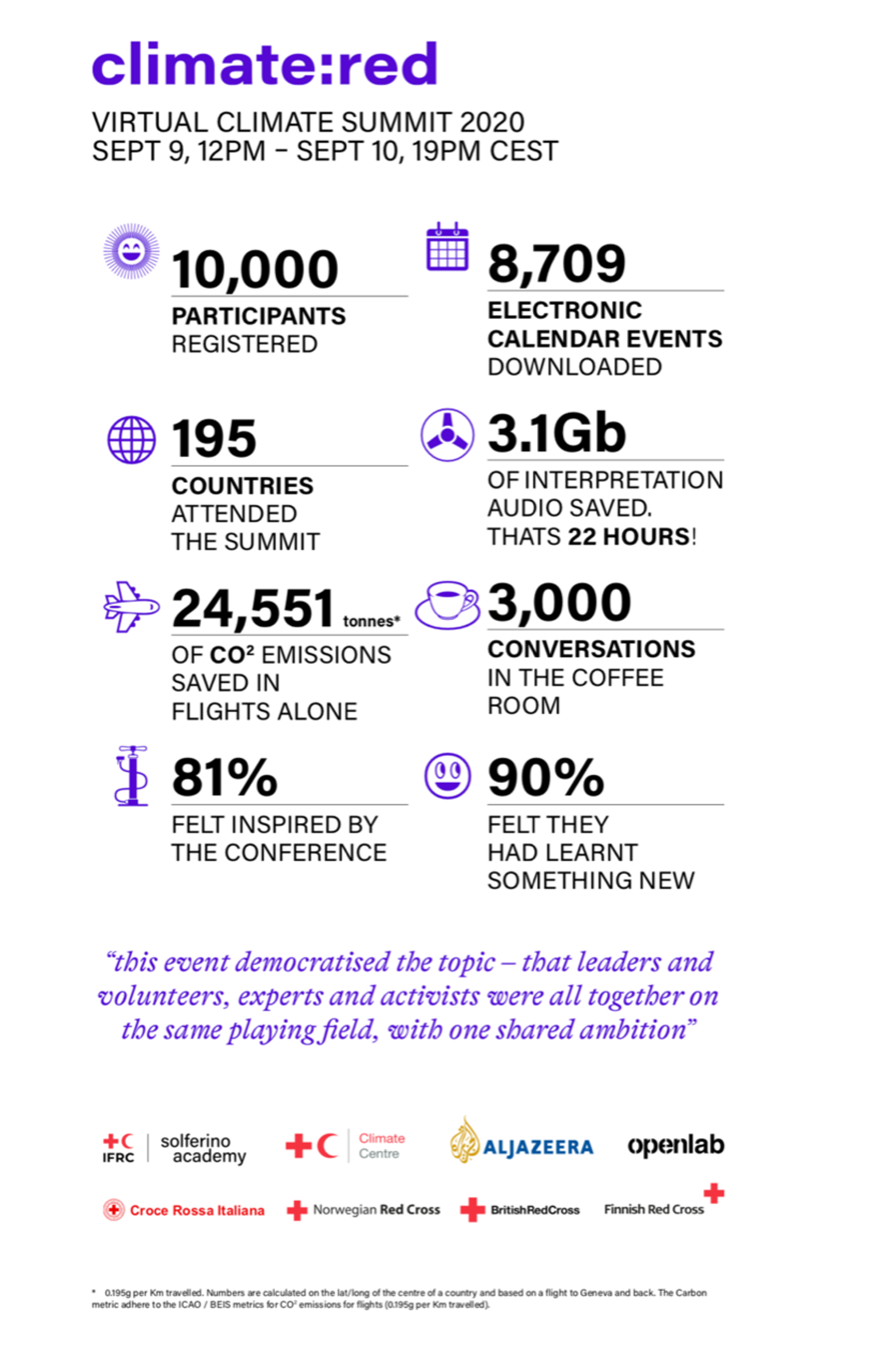 Usability
We were attempting to recreate the feel of an in-person conference such as making sessions easy to find and interact with.
One of the great successes in the interface was the fixed sidebar navigation. By having a fixed point of truth that persisted throughout the site, users could quickly and easily access all areas of the site at any time from the Atrium, to the schedule, to "Coffee chat" (a custom made solution that imitates the breakout space at a conference where attendees have a coffee and network), to our help desk.
The conference
The platform exceeded all our expectations. In addition to the basic functions we knew we needed, such as an easy and clear navigating through the agenda and extensive search function, easy access to individual sessions, live stream and embedded chat and other interactive functions for main stage events, we got much more.
With its coffee chats and the possibility to exchange virtual business cards, saved carbon calculator and participant tracker, a Chatbot help desk incorporating both artificial intelligence and human volunteers supporting both the session hosts and attendees, and live interpretation, climate:red was as close to a face to face event experience as we thought possible with our time and resources. It was not just a platform but truly a virtual space for people from all around the globe to meet, connect, discuss, debate and inspire each other.
"One thing that I like most about climate:red, is that it provides a suitable platform for leaders coming from different places around the world to gather (online), share their ideas and experiences, help us learn, and realize a lot of things especially concerning our climate. It was my first time attending an international conference at a young age, and it didn't cost a lot." - participant at the conference
Open Lab has previously worked with the IFRC building an escape room for their General Assembly, and creating a real-time game event played entirely through WhatsApp engaging with 4,000 volunteers.