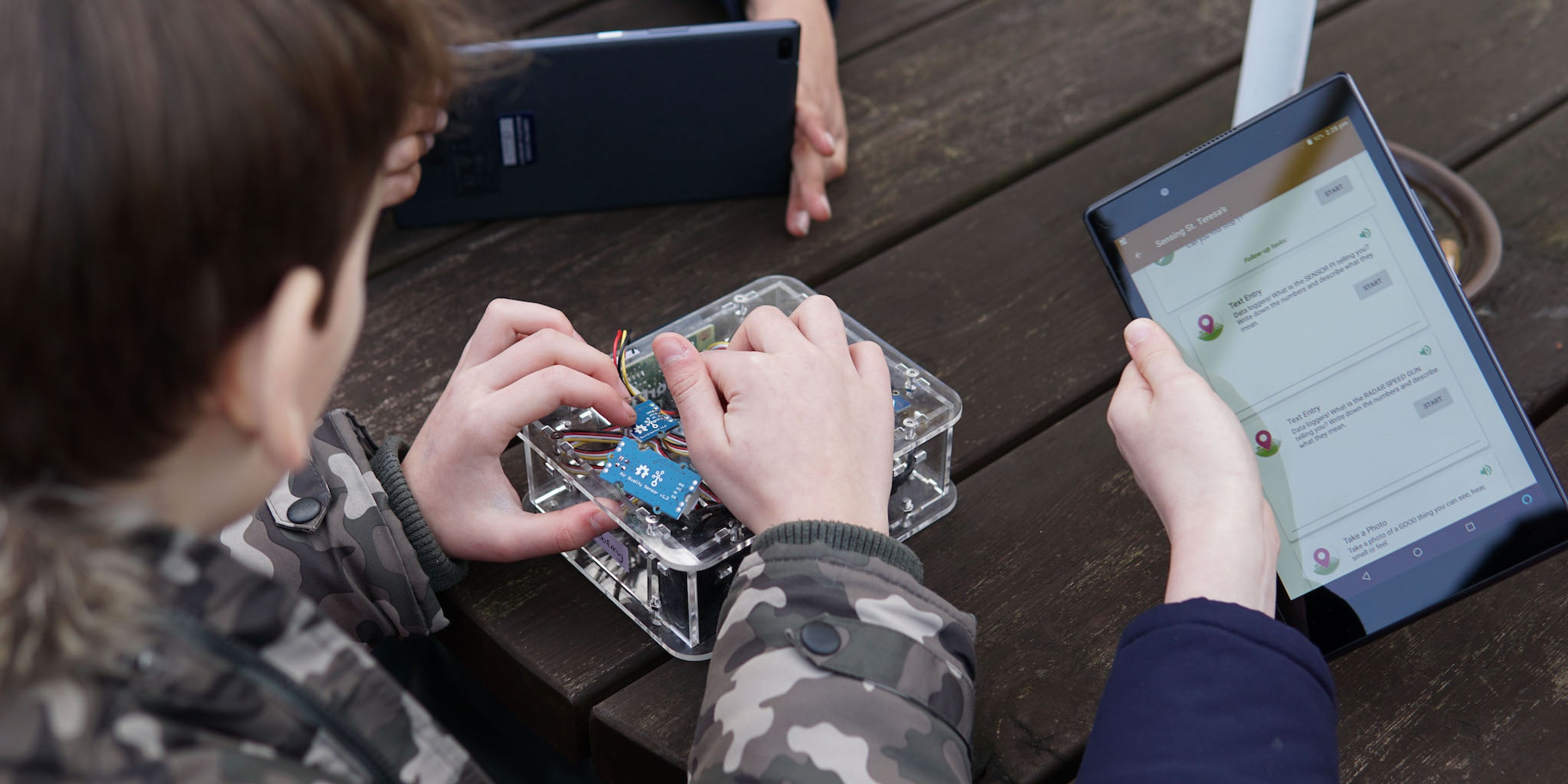 Sense Explorers: tools for children to transform the environment
Design Futures




Collaborators Chillingham Road Primary School, Cragside Primary School, St Teresa's Primary School, Seven Stories National Centre for Children's Books, Urban Observatory
Abstract
A free toolkit to involve children aged 8+ in transforming places and the environment.
Method
Running a series of participatory workshops that use the five senses and some digital sensing tools to investigate air quality, noise pollution and traffic speeds.
Takeaways
Sense Explorers has involved over 200 children from Newcastle and beyond collecting environmental data and using this to redesign their neighbourhoods.
Young people will inherit the world we create, but we aren't giving them the tools they need to make our future cities cleaner, healthier and more liveable.
Sense Explorers puts them in charge of their own future, by allowing them to gather evidence and make a case for improving their local neighbourhood. The activities and resources allow young people to uncover whether the air is healthy to breathe, cars are going too fast or public spaces should be cleaned up - and design their own solutions to these problems.
Using their five senses, and some interactive digital tools, young people learn that their neighbourhood is worth looking after - and they have the power to make it better.
Sense Explorers comes in four parts: Explore, React, Design and Influence. First, collect data using your own five senses and some cool digital technology - including a handheld, low-cost digital tool called the Sensor Pi that detects air pollution, dust and noise. Second, think about what this data tells you about your neighbourhood. Third, come up with campaigns and solutions for these problems. Finally, present your ideas to decision makers, to generate impact in your local area.
The Sense Explorers team created the Sensor Pi by connecting low-cost sensors to a Raspberry Pi computer and placing these in a clear, portable box. Among other things, the sensor can get a rough air pollution reading at the press of a button, and help sense explorers with their local investigations.
The toolkit is free for anyone to use. Please visit the Sense Explorers website to find out more.
Highlights
Sean wrote an article for The Conversation about Sense Explorers. This article has been reposted by international news outlets, including Fast Company, Yahoo! News and Phys.org, featured in industry resources including Air Quality News and TransportXtra, and translated for Portuguese news site ZAP. 'In February 2020, the article was included in Apolitical's 'Climate Innovation' ideas series for public servants.
Seven Stories ran 4 workshops with Seven Stories during Summer 2019, that invited young people and their carers to investigate the Ouseburn Valley.