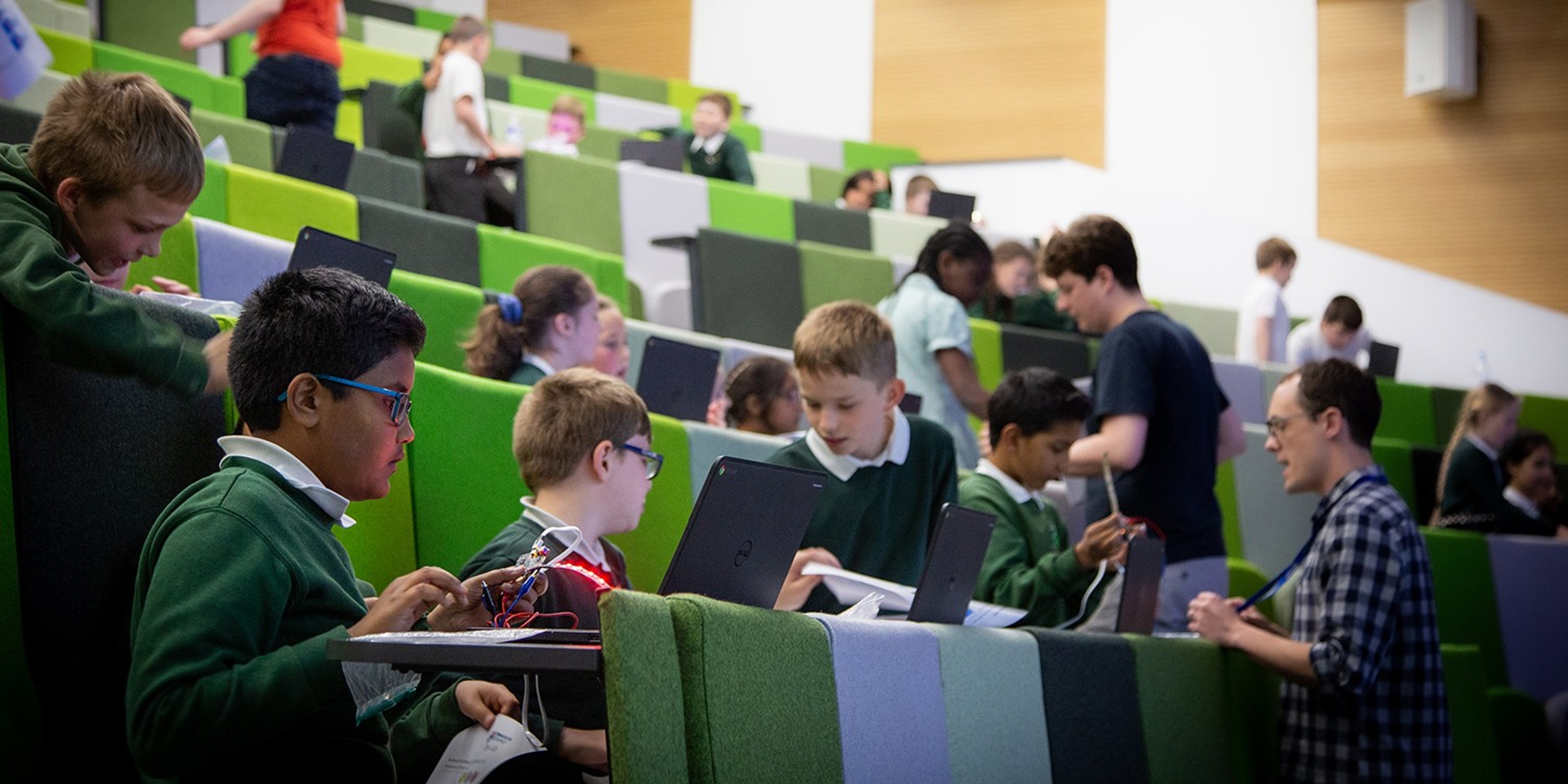 Using tech to improve collaborative learning for schoolchildren
Sunday, 8 September 2019
PhD students from the Engineering and Physical Sciences Research Council (EPSRC) funded Digital Civics CDT have worked with hundreds of schoolchildren to improve their creativity, give them practical skills and connect them with schools on the other side of the world.
Creating new cultural engagements
From local parks to lighthouses, the Open Lab app OurPlace allows people to connect with the places they care about the most.
As part of Dan Richardson's PhD, he created an app designed to allow anyone to create, share and complete fun learning activities in the outdoors.
Offering a wide number of interactions such as photography, video, audio recording, map marking, drawing and location hunting, the app makes it easy to create playful and creative learning activities.
The app, which started its life as ParkLearn. helps people learn while out and about, and provides follow up tasks for in the classroom.
This research was published in the papers 'We are the Greatest Showmen: Configuring a Framework for Project-Based Mobile Learning' at ACM CHI 2020, 'Parklearn: creating, sharing and engaging with place-based activities for seamless mobile learning' at the ACM MobileHCI '18 conference, and 'Exploring Public Places as Infrastructures for Civic M-Learning' at ACM Conference on Communities and Technologies 17.
Since 2016 OurPlace has been used by over 350 schoolchildren across ten different schools, including a summer school for Travelling Showmen - creating a cross-cultural exchange between the pupils.
Outside of schools, the app has been used by a number of heritage organisations, including the Tyne and Wear Heritage Forum, who have applied for funding to create a staff position to design and run OurPlace activities.
Changing the curriculum
Despite computing being part of the National Curriculum in the UK, the number of students studying computing at GCSE has declined year-on-year since 2015.
Working with schools across the North East, PhD student Megan Venn-Wycherley has helped design several projects linking the university with pupils to improve computing education using the BBC micro:bit.
Between 2018 and 2019 six classes of Year eight pupils were given the challenge to create projects using the BBC micro:bit to improve their school environment. From motorised air fresheners to systems for schools to order school lunches - the pupils showcased their projects at Newcastle University and were awarded certificates from the head of the School of Computing.
Through this process 120 students, many from disadvantaged backgrounds, were able to meet researchers at the university, exposing them to higher education and potential career opportunities in the future.
Megan also worked with staff and pupils at Churchill Community College to develop a 12-week computing scheme for Key Stage 3, as part of an overarching education initiative coordinated by the North East Local Enterprise Partnership, The Edge Foundation, and Ford Next Generation Learning.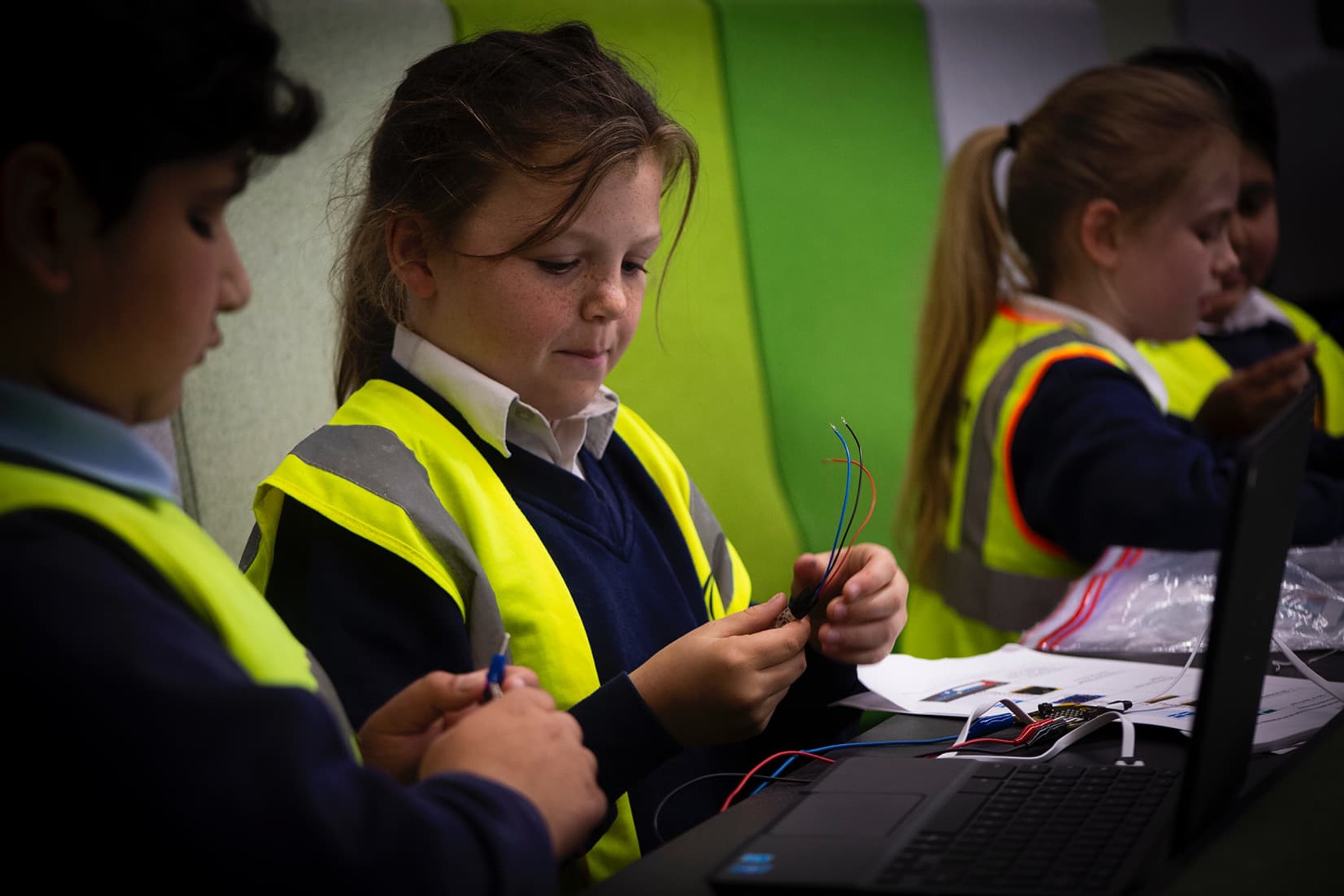 Connecting schools with local musicians
Over 60 students from across the North East have been getting to grips with lighting equipment, and gig management as part of Rebecca Nicholson's PhD project Gig Academy, which she started in 2018. She has worked with three secondary schools to teach students between 11 and 15 how to plan gigs for local bands.
Gig Academy worked with Marsden High students, as part of an extracurricular activity, and at St Thomas More and George Stephenson High School, as part of their BTEC Music courses.
To teach students technical production skills, the Gig Academy team created micro:bit ProtoLamps - small micro:bit lights which replicate and are connected to a large lighting rig.
The ProtoLamps allowed students to practice using lighting equipment and a lighting board, without needing to set up the full rig.
In 2016 PhD student Colin Dodds worked with music students across the country, creating Remix Portal, an online music remixing and sharing application. Students could remix the music of local musicians, who then gave them feedback on their remixes.
Cross-cultural learning across the UK and India
Through her doctoral research, in 2017 Vidya Sarangapani worked with three schools across England and India with over 300 pupils in the two countries, England and India. She explored how digital technologies and cross-cultural contexts impact student learning approaches.
The research has been presented in high impact conferences in the two countries and are available on high impact peer-reviewed ACM publication.
In April 2019, she also received EPSRC Impact Acceleration funding, to work with a middle school in Newcastle to reconceptualize online spaces used by the school and encourage deeper forms of stakeholder engagement. This will be used to develop an online engagement strategy and stakeholder engagement strategy for schools across England.
References
More about the research behind this work can be found in the following papers