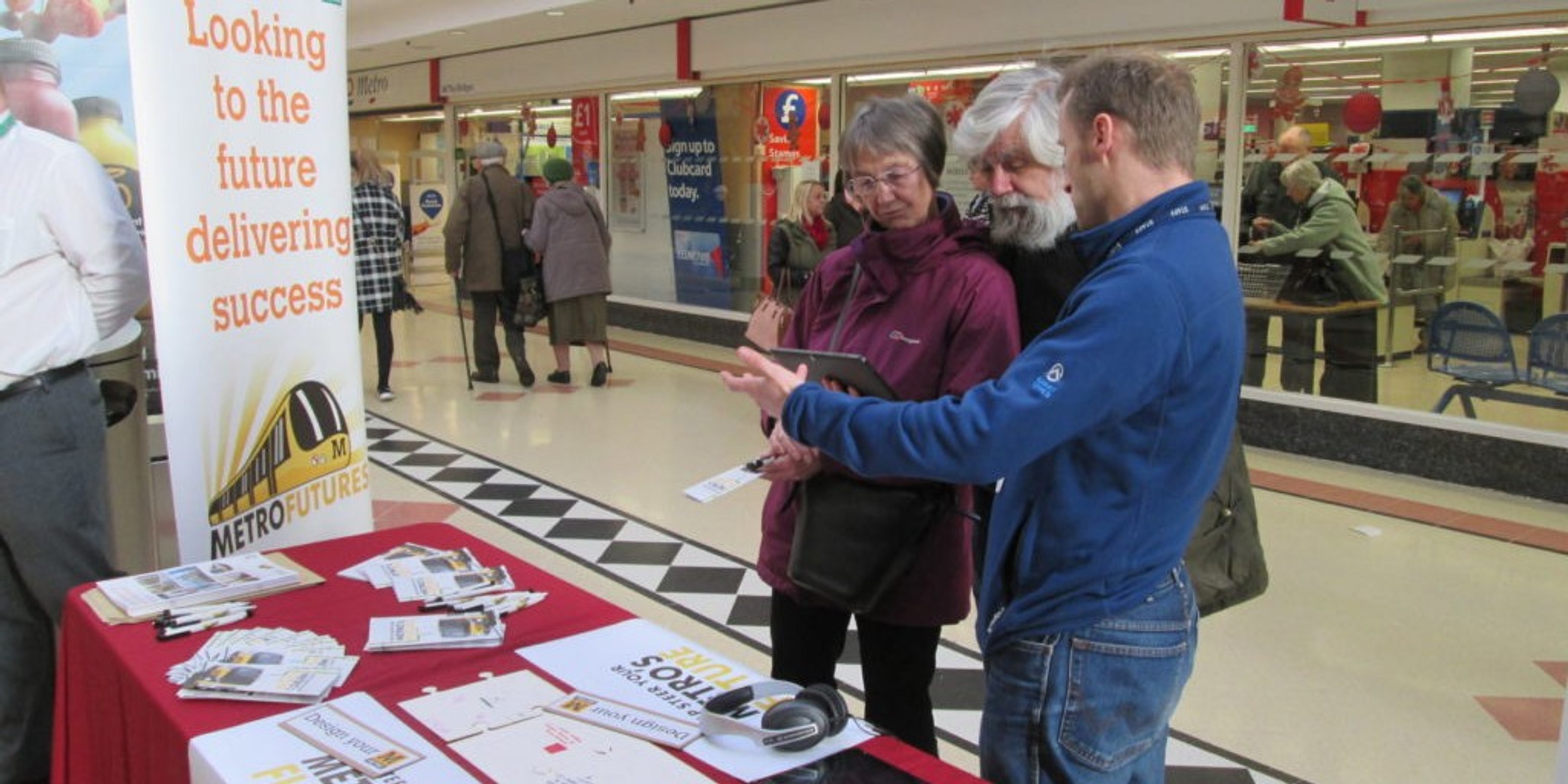 Metro Futures: Co-designing the future of Tyne and Wear Metro
Design Futures












Collaborators Nexus
Abstract
We had over 20,000 responses to help inform the design of the new Tyne and Wear Metro trains that are currently being built to replace the system's ageing fleet.
Method
A multi-channel programme of intergenerational public engagement around the future of the Metro both offline and online.
Takeaways
Research generated through Metro Futures informed a successful £362m bid to the Department for Transport for a fleet of new Metro trains.
Over 20,000 people informed the new design of the Tyne and Wear Metro trains that are currently being built to replace the system's ageing fleet. Metro Futures, a project by Nexus included a ground-breaking public consultation by Newcastle University that used a variety of digital tools and creative activities to talk about what they wanted from their trains.
After the initial consultation in 2016, we led a further engagement in 2020 asking the public to comment on the designs presented by Stalder commenting on the finishing touches of the trains such as seat designs and handrails, as well as seeing if the trains were fit for purpose for everyone.
With over 20k responses the consultation was among the most far-reaching ever carried out on a new train fleet, giving people the opportunity to shape the final interior design through a special website, interactive webinars and workshops and online polls.
2016 consultation
Metro Futures adopted a 'co-design' approach, which went beyond passengers 'having their say' to actively involving hundreds of people in the design of new trains.
Rather than relying on methods such as questionnaires and surveys, Metro Futures used pop up Labs in shopping centres and busy public spaces across the North East, co-design workshops with co-researchers (members of the public), and tools such as the Open Lab built JigsAudio - a consultation method that uses talking and drawing.
Metro Futures also sought the views of the youngest Metro passengers. Working with seven schools and colleges, the project invited students from across Tyne and Wear to put forward their designs for future Metro trains and welcoming over 60 schoolchildren to sit in the driver's cab of a real Metro train for an afternoon.
On 28th January 2020, Nexus announced its chosen manufacturer of 42 new Metro trains, all of which will be informed by feedback gathered through the Metro Futures project.
Metro Futures involved running stakeholder events, including 7 'pop up lab' events and 4 co-design workshops. A team of 20 co-designers thought carefully about every aspect of new trains, from accessibility and reliability to comfort and the arrangement of seating.
2020 consultation
In 2020, Nexus asked Open Lab to run another public consultation on whether the proposed design fitted public needs and help decide on interior design options. Nexus asked us to use a similar approach to 2016 but then Covid-19 made face-to-face workshops and pop-up labs not possible and we had to rethink.

In 2020, we could conduct deep and narrow activities using workshops on Zoom but the online equivalent of shallow and wide activities needed more thought. The success of the 2016 pop-up labs was partly due to engaging passers-by in busy public locations.
We worked with NEXUS and train builder Stadler to create a website and a series of online events that will allow passengers to explore a virtual model of the train.
People could explore and comment on the new Metro train interiors at: https://metrofutures.org.uk/configure
Step into the shoes of six different Metro passengers and experience the new trains from their points of view. https://metrofutures.org.uk/journeys.
Join three live webinars with a virtual tour of the trains and a question and answer session. The questions and answers from those sessions can be found on the Nexus website: https://www.nexus.org.uk/newmetrotrains
People were given the option to answer polls on Twitter as well on their prefered configurations
Activities received over 23,000 public responses, which is unprecedented for Nexus and Stadler and has provided a wealth of data for our ongoing research into what this means for doing experience-centred co-design both at scale and online.
MetroFutures won the Technical Innovation of the Year - Rolling Stock award at the Global Light Rail Awards in 2021. Nexus also celebrated three Gold awards and one Silver Award at the Chartered Institute of Public Relations North East Pride ceremony in 2021. Nexus was named winner for Regional Campaign of the Year, Best Use of Content and Best Use of Digital and Social Media and coming runner up in the Best Public Sector Campaign category.